Perhaps more so than any other surgical disease, obesity and weight loss surgery are associated with numerous
myths and misconceptions
that prevent patients from being referred for and receiving this life changing--and often life saving--surgery. Sadly many patients suffering from obesity are not receiving the evidence-based care they deserve. We want to change that.
Inspired by the success of the #bcsm (breast cancer social media) and #lcsm (lung cancer social media) communities among others, we are launching #obsm (obesity social media). Our aim is for the chat to serve as a connection between all stakeholders in the fight to end obesity
—
surgeons, internists, bariatricians, gastroenterologists, nutritions, psychologists, therapists, nutritionists,
dietitians
, physical therapists, personal trainers, and most importantly, patients and their support networks.
The first chat will be held Sunday, December 4 at 9 pm EST. The topic is "Obesity Surgery: myths and misconceptions."
We hope to see you on Twitter!
Heather Logghe, MD;
Babak Moeinolmolki, MD;
Neil Floch, MD;
Amir Ghaferi, MD, MS; Arghaven Salles, MD, PhD
Update: The first #obsm chat December 4, was a huge success, with 500 tweets and 50 participants during the hour of the chat!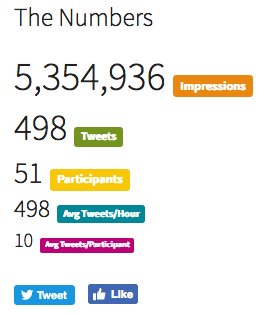 Numbers from @symplur
The full transcript can be found
here
. We are also excited to announce a sibling chat to be held the third Sunday of every month, at a more Europe-friendly time of 7 pm GMT. The first such chat will be December 18 and will be moderated by Drs.
Zaher Toumi
and
Simon Monkhouse
.
The topics for the European chat will be the same as those used for the first chat:
T1
Misconception: Surgery is a 'cop-out'. Individuals affected by severe obesity just need to go on a diet and exercise program. #obsm
T2
Misconception: #ObesitySurgery causes worse health problems such as vitamin and mineral deficiencies, suicide, and even death. #obsm
T3
Misconception: Most people who have #WeightLossSurgery regain their weight. #obsm
T4
Moving forward: How can we overcome these misconceptions and ensure patients are appropriately referred for #obesitysurgery? #obsm
T5 What topics related to #BariatricSurgery and #obsm would you like to see covered in upcoming chats? #obsm